Solway Lass
CLOSE
View More Thumbnails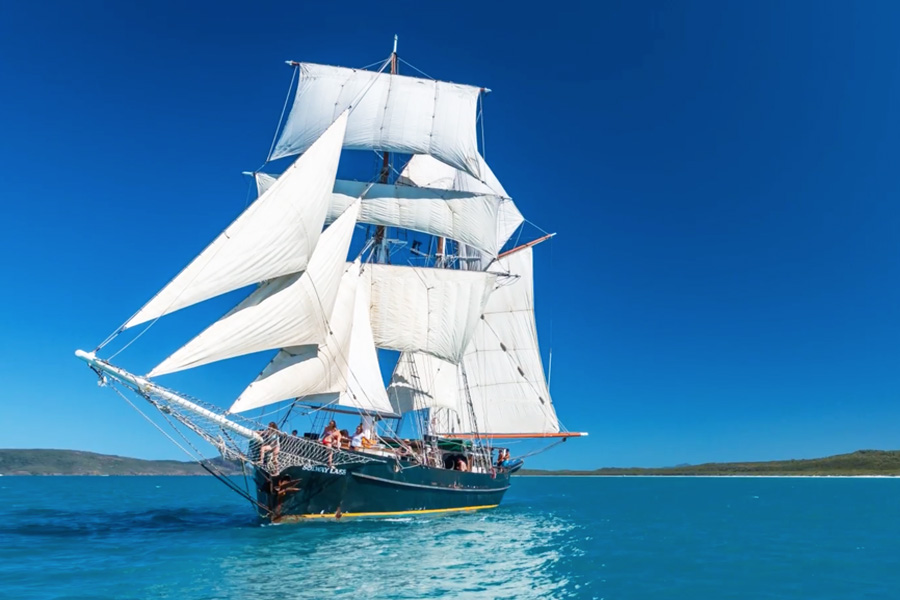 Loading...
Departure Times
Departs: 7:30pm - Tuesdays, Saturdays
Returns: 4:30pm - Fridays, Tuesdays
Pricing Options
$79 AUD per Person
- 1 pre-booked dive
(Between: 01 Apr 2017 and 31 Mar 2018)
Sail, relax, snorkel, and explore on a classic tall ship
Jump on board Solway Lass for a 3 day and 3 night excursion which delves deep into history. With 10 sails flying and over the 5,500 feet of sail area, the tall ship is a sight to see as she manoeuvres around the Whitsunday waters. Solway features an impressive rope swing, comfortable cabins and bow nets so guests can enjoy their own space on the large vessel. With a mixed group onboard, everyone will enjoy the experience of sailing on an authentic ship (you even have the chance to steer the classic ship), and seeing the best of the Whitsundays.
Solway Lass is the best way to experience a traditional sailing trip around the Whitsundays - with history below your feet and sails above. Guests will learn about her long and interesting history as they explore the islands, with opportunities to snorkel, scuba dive, visit Whitehaven Beach and relax. Attracting a mixed group, Solway Lass is a large, stable vessel which sails around the Whitsunday islands for 3 days and 3 nights, leading you on a journey that will include plenty of activities and plenty of sights to see with tropical islands. Guests can take the opporunity to steer this amazing ship while she is at sea or even take part in a scuba dive int he beautiful reefs below - Solway's itinerary offers something for everyone. Spend your nights in your comfortable cabin which is lined with cedar and teak softly lit with a modern brass lantern, leaving you feeling relaxed and rejuvenated.
Solway Lass Features:
Opportunity to take part in a hands-on sailing experience
Air-conditioned cabins
Saloon area with a licensed bar
Hot showers and 240V power available on board
Meals freshly-prepared onboard
Enjoy swinging from the Tarzan rope!
Snorkel gear and wetsuits provided
Scuba diving
Large spacious decks
Large cabins
Private and shared cabins available
Historic boat
If you enjoy adventure and history mixed in with a dash of paradise, look no further than Solway Lass!
Your Boat Layout
Solway Lass is a comfortable vessel, featuring air-conditioning, separate male and female bathrooms as well as 11 private double, twin or shared cabins. The cabins are appointed with brass lamps, cedar and oak timbers, personal reading lamps and comfy beds.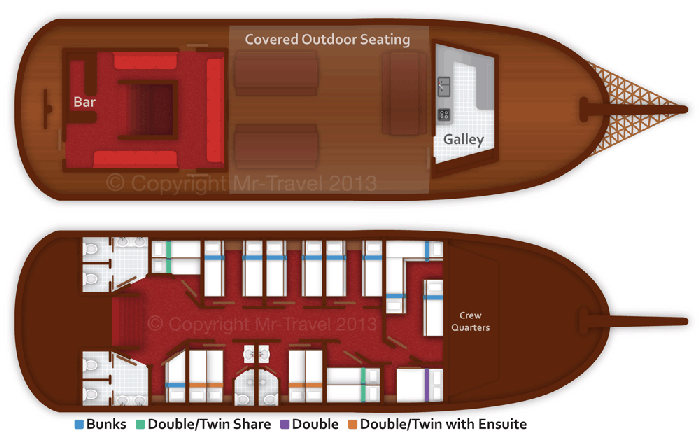 Your Getaway
Solway Lass aims to spend a full three days exploring the Whitsunday Islands with adventure, relaxation and amazement at the top of the priority list. You'll get to visit Whitehaven Beach, located on Whitsundays Island, as well as Hill Inlet Lookout for an amazing and once in a lifetime experience. Known for its white silica sands and clear waters, the beaches stretch for 7 kilometres and create unique and beautiful patterns in the changing tides. One of your crew members will take you on an bushwalk up to lookout where you can see them for yourself and learn about the local wildlife and history along the way. and along the way.
Guests will also have the chance to snorkel in the beautiful reefs surrounding the Whitsunday Islands, getting to see the amazing and diverse sea and amazing coral formations that live below. You'll also have the chance to experience the underwater world through an exciting rendezvous scuba dive with the diving vessel, Tornado during your three day trip. As a guest on board, you have the option to do an introductory or certified dive, but you must book diving in advance so please let us know at time of booking so we can arrange it for you. Price includes all gear hire and dive Instructor. Introductory divers are subject age, conditions and medical questions and Certified divers need to bring dive card please.
With Solway Lass' amazing history, stunning structure, and fun itinerary, you're sure to have the time of your life on board this Whitsunday icon.
SAMPLE MENU
Night One
Evening snack: Party pies and sausage rolls with dipping sauce
Dinner: Pumpkin soup with either garlic bread or warm crusty bread with butter
Day One
Breakfast: Breakfast which is three cereals, white, wholemeal and fruit bread, baked beans or spaghetti, yoghurt, milk. Spreads including: margarine, vegemite, peanut butter, honey, strawberry jam and marmalade. Orange juice.
Morning tea: Assortment of biscuits or fruit cake
Lunch: Lunch varies every trip. BBQ sausages, veggie burgers, pasta salad, potato bake/salad/mash, green salad and fresh cob loaf
Afternoon tea: Fresh fruit Platter
Evening snack: Nachos with melted cheese, salsa and sour cream
Dinner: BBQ chicken or chicken curry (either green curry, satay or Italian) with rice greek salad and yoghurt and cucumber sauce
Day Two
Breakfast: Breakfast which is three cereals, white, wholemeal and fruit bread, baked beans or spaghetti, yoghurt, milk. Spreads including: margarine, Vegemite, peanut butter, honey, strawberry jam and marmalade. Orange juice.
Morning tea: Assortment of biscuits or fruit cake
Lunch: Cold meat platter, a selection of salads including: cucumber, tomato, sprouts, lettuce and carrot, cheese, tuna salad, curried eggs, pasta bake/salad, and a fresh cob loaf
Afternoon tea: Fresh fruit platter and fruit cake
Evening snack: Dips (sour cream and sweet chilli or sour cream with corn relish and tabasco), cheese plater with crackers, green olives, carrot, gherkins and kabana
Dinner: Roast beef, gravy, roast potatoes, roast pumpkin, corn on the cob, peas, fresh warmed plait bread with butter and vegetarian lasagne for vegetarians.
Dessert: Chocolate cake or fruit salad with ice cream and chocolate sauce
Day Three
Breakfast: Breakfast which is three cereals, white, wholemeal and fruit bread, baked beans or spaghetti, yoghurt, milk. Spreads including: margarine, Vegemite, peanut butter, honey, strawberry jam and marmalade. Orange juice.
Morning tea: Assortment of biscuits or fruit cake
Lunch: Warmed quiches, caesar salad with croutons, bacon, egg, parmesan and cos lettuce, couscous salad, greek salad with cucumber, capsicum, black olives, red onion tossed with balsamic or Italian dressing.
Afternoon tea: Fresh fruit platter and fruit cake
BOOK WITH US TODAY! CALL 1800 550 751 OR (07) 4914 2425 IF LOCAL
What To Bring
Swimmers
Change of clothes
Small, zipperless overnight bag
Money for onboard bar or scuba diving
Sunscreen
Excess luggage can be stored at several places in town including most boat check-in offices, a 24 hour locker shop on The Esplanade, most hostels, or at your accommodation. Most charge between $5-10pp for the duration of your trip.
What's Included
Skipper
Crew
Drinking water
Meals
Licensed bar
Linen
Wetsuit hire
Snorkelling equipment
All Marine Park fees
Wet weather jackets if needed
What's Extra
Alcoholic beverages and soft drinks are to be purchased from licensed bar (no BYO allowed).
Pre-booked scuba diving is an additional cost - be sure to book in advance.
Your safety in the water is our primary concern. To ensure your comfort and safety divers must be 12 years or over (if 12 years or older may be able to dive with parents consent)and they may require that you have a Divers Medical Certificate for certain medical conditions.
Please read the following questions carefully:
Do you currently have an ear infection?
Do you have a history of ear disease, hearing loss or problems with balance?
Do you have a history of ear or sinus surgery?
Are you currently suffering from a cold, congestion, sinusitis or bronchitis?
Do you have a history of respiratory problems, severe attack of hayfever or allergies, or lung disease?
Have you had a collapsed lung (pneumothorax) or history of chest surgery?
Do you have active asthma or history of asthma, emphysema or tuberculosis?
Are you currently taking medication that carries a warning about any impairment of your physical or mental abilities?
Do you have behavioral health problems or a nervous system disorder?
Are you or could you be pregnant?
Do you have a history of colostomy?
Do you have a history of heart disease or heart attack, heart surgery or blood vessel surgery?
Do you have a history of high blood pressure, angina, or take medication to control blood pressure?
Are you over 45 and have a family history of heart attack or stroke?
Do you have a history of bleeding or other blood disorders?
Do you have a history of diabetes?
Do you have a history of seizures, blackouts or fainting, convulsions or epilepsy or take medications to prevent them?
Do you have a history of back, arm or leg problems following an injury, fracture or surgery?
Do you have a history of fear of closed or open spaces or panic attacks (claustrophobia or agoraphobia)?
If any of these conditions apply to you, you will require a Divers Medical Certificate before you can scuba dive.
A Divers Medical Certificate can be obtained from:
The Doctors
283 Shute Harbour Road (Opposite McDonalds)
Airlie Beach
Ph: 07 4948 0900
Terms and Conditions
All departures and itineraries are subject to weather. Tours may be changed or cancelled for any reason at the discretion of the Tour Operator. It should be noted that adventure travel involves risk. Whilst we make every effort to safeguard clients, we cannot be responsible for personal injury or loss due to actions of our clients which are beyond our control. We recommend that all clients have travel insurance covering illness, injury, loss or damage to personal belongings and not being able to travel on the confirmed date of departure. Please be aware operators pass on credit card merchant fees so there is a non-refundable 2.5% surcharge for VISA and MASTERCARD card purchases.
Please advise us before booking if any passengers are under 18 years old to ensure this is the appropriate trip. Also please note that you need to allow time prior to the boats departure to check in, please ask us for more details.
Cancellations
​All cancellations made result in 25% cancellation fee of the recommended retail price (RRP), not discounted or sale prices. Any cancellations made 60-30 days prior to travel will result in a 50% cancellation fee and any cancellations made inside of 30 days to departure will result in forfeit of full trip fees. If the sailing company has to cancel the trip (prior to the boat's departure) and we cannot offer a suitable alternative, then a refund will be given minus card fees. We strongly recommend that you have travel insurance, especially during the wet season.
Please note it is the responsibility of ALL passengers travelling to advise both your travel agent at the time of booking and vessel check-in agent before boarding of ANY medical conditions including food allergies you may suffer from.
​
Thank you for booking with Mr Travel/Sailing Whitsundays. If you would like any advice or assistance in arranging accommodation, transfers or additional tours, please do not hesitate to contact us.