CW: Great Barrier Reef Adventures
CLOSE
View More Thumbnails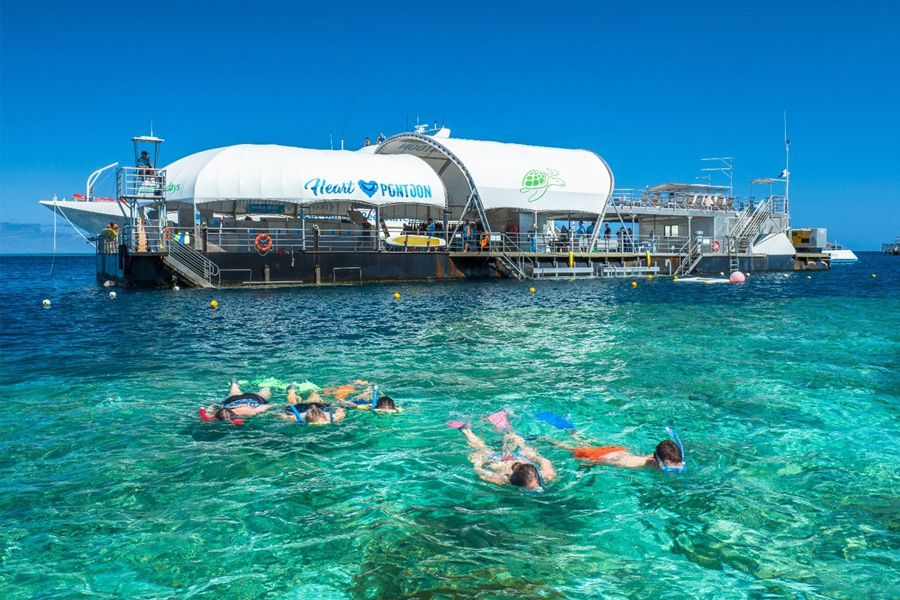 Loading...
出发时间
出发日期: Airlie 8am; Daydream 7:35am; Hamilton 9am - Daily
返程: Airlie 6:10pm; Daydream 5:40pm; Hamilton 5pm, - Daily
价格区间
$228 AUD / Person
- Backpacker
(Between: 01 Apr 2019 and 31 Mar 2020)
$269 AUD / Person
- Adult
(Between: 01 Apr 2019 and 31 Mar 2020)
$709 AUD / Family
- Family (2A+2C)
(Between: 01 Apr 2019 and 31 Mar 2020)
$0 AUD / Person
- Infant (0-3 years)
(Between: 12 Nov 2019 and 31 Mar 2021)
$125 AUD / Person
- Child (4-14 years)
(Between: 01 Apr 2019 and 31 Mar 2020)
$242 AUD / Person
- Senior (60+ years)
(Between: 01 Apr 2019 and 31 Mar 2020)
$242 AUD / Person
- Youth (15-17 years)
(Between: 01 Apr 2019 and 31 Mar 2020)
大堡礁浮潜或深潜一日游
来探索哈迪礁的水下世界,欣赏色彩斑斓的珊瑚和海鱼畅游,还有机会见到可爱的常驻居民 - 海龟喔!
与Cruise hitsundays公司的其他行程搭配购买,价格更实惠!
珊瑚世界一日游,是圣灵群岛最受欢迎的行程之一。乘坐舒适的大型现代双体游船,穿过美丽的圣灵群岛,抵达哈迪大堡礁的海上浮台。您有一整天的时间参加精彩的活动,大堡礁五颜六色的水下奇景,美得不可思议。您可以沿着珊瑚礁礁浮潜,探索丰富多彩的海洋世界。也可以乘坐半潜艇,聆听向导讲述关于大堡礁的精彩故事。如果您想要享受静谧的美好时光,可以进入水下观景台,欣赏美丽的珊瑚群和鱼类。

您可以享受美味的自助午餐,也可以参加深潜、直升机观光等激动人心的自费活动,让您的大堡礁之旅更精彩。

行程亮点:
所有浮潜设备、超过100米的浮潜区
哈迪礁海上浮台停留約4小时
自助午餐、上午茶和下午茶
带向导半潜艇之旅
水下观景台
太阳躺椅休闲
额外付费项目:深潜、观光飞行、带导潜的浮潜活动、海上喷射机
出发/返程时间:
艾尔利港 8:00 am 出发 6:10 pm 返回
汉密尔顿岛码头 9:00 am出发 5:00 pm返回
*超长时间的大堡礁体验*
参加2天1夜Reefsleep的行程,您可以在哈迪礁的海上浮台住一晚,在星空下入睡,无限次浮潜,与珊瑚海鱼作伴!
*请注意:
老年人(60岁以上)、青少年(15-17岁)和背包客(18-35岁)可享受对应折扣(需提供ID)。
预订热线:
WeChat / LINE: SW0749480775
中文服务电话: (07) 4946 5888
更多信息
携带须知
Please bring only a small bag with:
Photo identification
Sun protection (hat, sunscreen, sunglasses etc)
Swim-wear
Beach towel
Camera
Jumper or jacket (seasonal)
Cash or credit cards for onboard purchases
团费包含
Snorkelling equipment
Wet/stinger suit
Buffet lunch
Morning and afternoon tea and coffees
额外收费
Drinks, alcohol, snacks, photographs, souvenirs, scenic flights and guided snorkelling tours.
Scuba diving is also available to purchase on board for certified or introductory divers, is subject to medical conditions and age restrictions.
条款与细则
Infants 0-3 years travel free of charge, however no infant meals are included. Guests must be able to show valid ID at check in to support their ticket type (i.e Senior or Child ticket). If you cannot produce the valid identification to meet your ticket requirements, you will not be able to travel without paying a surcharge/difference in fare.
The "Backpacker" price shown is only available clients between the age of 18-35 years who are able to present a genuine backpacker card or proof backpacker accommodation. Backpacker cards are classified as Student Flights, ISIC, YHA, IYTC, ISE, Nomads, Base, or SUT cards. Backpacker accommodation is defined as a hostel, campervan or Sailing Whitsundays accredited Airbnb. Clients will be asked to present their card, photo identification and accommodation receipt at check-in. If the above cannot be produced, the client will not be able to travel without paying a surcharge and may face cancellation fees. The operator retains full rights to grant or refuse a backpacker discount at its absolute discretion so that the backpacker price is only made available to genuine backpackers. Please assist us by adhering to these conditions.
All departures and itineraries are subject to weather. Tours may be changed or cancelled for any reason at the discretion of the tour operator. It should be noted that adventure travel involves risk. Whilst we make every effort to safeguard clients, we cannot be responsible for personal injury or loss due to the actions of our clients which are beyond our control. We recommend that all clients have travel insurance covering illness, injury, loss or damage to personal belongings and not being able to travel on the confirmed date of departure. Also please note is select swag accommodation this is a camping experience so sleeping on deck open to the elements and weather. Please be aware operators pass on credit card merchant fees so there is a non-refundable 1.5% surcharge for VISA and MASTERCARD card purchases.
Please note that in the unlikely event of your trip being cancelled or stood down, all guest communication is required to go through our Online Store via telephone or email. While there is a Sailing Whitsundays retail outlet located Airlie Beach, please be aware that they operate as a separate entity and are unable to access reservations made by the Mr Travel online department.
Please advise us before booking if any passengers are under 18 years old so we can make sure this is an appropriate trip. Please ask us for more details.
取消条款
All client cancellations forfeit 25% of the total ticket price and all client cancellations made less than 7 days prior to departure will result in complete forfeiture of the full price of the tour. If the tour operator has to cancel the trip (prior to the departure) and we cannot offer a suitable alternative, then a refund will be given minus card fees. We strongly recommend that you have travel insurance, especially during the wet season.
Thank you for booking with Mr Travel/Sailing Whitsundays. If you would like any advice or assistance in arranging accommodation, transfers or additional tours, please do not hesitate to contact us.