Anaconda
CLOSE
View More Thumbnails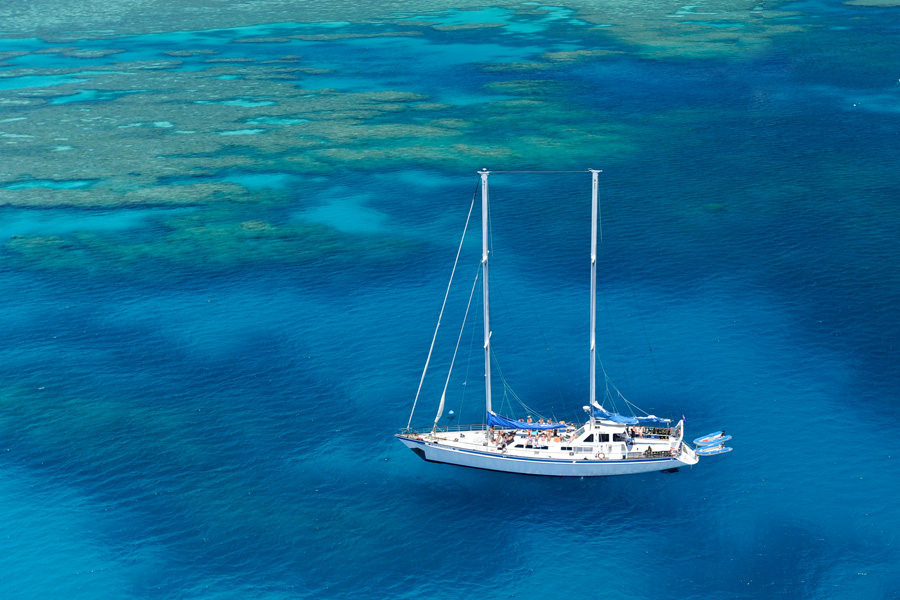 Loading...
Departure Times
Departs: 7:00pm - Tuesday & Friday
Returns: 2:00-2:30pm - Monday & Friday
Pricing Options
$565 AUD per Person
- Shared Accom
(Between: 01 Apr 2017 and 31 Mar 2018)
$649 AUD per person
- Private Twin Cabin (requires 2 people) ($1298.00 Total)
(Between: 01 Apr 2017 and 31 Mar 2018)
$649 AUD per person
- Private Double Cabin (requires 2 people) ($1298.00 Total)
(Between: 01 Apr 2017 and 31 Mar 2018)
$699 AUD per person
- Private Queen Cabin (requires 2 people) ($1398 Total)
(Between: 01 Apr 2017 and 31 Oct 2017)
$599 AUD per person
- Triple Cabin (requires 3 people) ($1797.00 Total)
(Between: 01 Apr 2017 and 31 Oct 2017)
Do it all on board Anaconda - See the Whitsunday Islands, Whitehaven Beach AND the outer Great Barrier Reef!
With exciting snorkelling, real sailing and scuba diving at the Great Barrier Reef, Anaconda III is one of the most popular overnight sailing experiences in the Whitsundays. Majority of tours in the area offer 2 nights which is why Anaconda is a standout trip, offering 3 full nights cruising through the Whitsunday Islands as well as the outer Barrier Reef plus the option of multiple scuba dives. You are also able to complete an Open Water or Advanced Dive Course onboard! The mega yacht carries 32 passengers with a variety of cabins including private, airconditioned cabins with ensuite.
You May Also Be Interested In:
Anaconda & Backpacker AccomAnaconda & Studio AccomAnaconda, Accom & FlightAnaconda, xBase & Flight
---
Anaconda III is not just a maxi-yacht, but a mega-yacht! This 3 day, 3 night trip guarantees more than just exciting sailing, a great crew and amazing sights in the Whitsundays. Anaconda III is one of few sailing trips which visits the outer Great Barrier Reef PLUS it has onboard scuba diving and provides all passengers with a FREE scuba experience! Below the deck, the vessel boasts a large saloon with TV/ DVD player, bar area with airconditioning, as well as comfortable lounges and a huge lifting table. All of the delicious meals are served in a smorgasboard, buffet style, all of which is freshly prepared by the onboard by the chef. Complete an AUSI Open Water or Advanced Dive Course onboard Anaconda.
Anaconda Features:
Whitsundays largest, fastest and comfortable vessel
32 guests making for a sociable and action packed experience
Onboard scuba diving with very experienced dive instructors
Visit Hill Inlet and Whitehaven Beach
Private airconditioned cabins available
All meals are freshly prepared by your crew
Morning tea and afternoon tea
Hot showers onboard
Visit world-famous Bait Reef at the Outer Great Barrier Reef
Snorkelling equipment included
Very spacious decks with lots of room to move
Licensed bar on board - with happy hour specials!
Complete your AUSI Open Water or Advanced Dive Course onboard Anaconda!
Experience the beautiful Whitsunday Islands and the Great Barrier Reef for 3 NIGHTS! Don't miss out on this bargain.
Anaconda 3 is also available for private charter.
Boat Layout
Anaconda III offers a variety of spacious accommodation styles, all featuring air-conditioning and en-suite bathrooms. Anaconda III has one queen cabin, two private double cabins, two private twin cabins and also several quad share cabins. Each cabin has en-suite bathrooms with shower, toilet and basin. The sleeping arrangements are designed to make Anaconda III the perfect pick for both couples, groups and single travellers. With spacious decks, large lounging areas and a saloon, Anaconda III is one of the most comfortable yachts in the Whitsundays! Private cabins are based on 2 people sharing.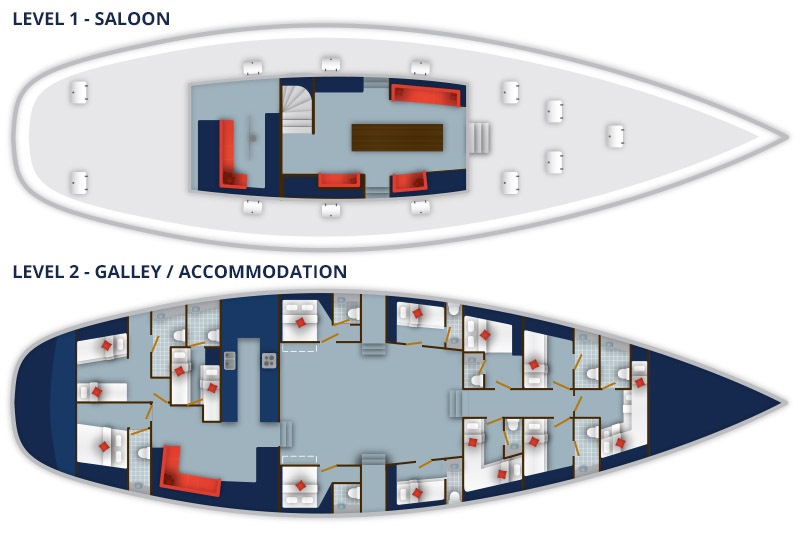 FREE SCUBA EXPERIENCE
If you are interested in trying scubadiving, you will have the chance to experience scuba diving before you pay for anything! Get fully geared up and experience what it is like to breath out of a regulator while standing in shallow waters at the beach. If you decide it is not for you, at least you gave it a try.
DIVING
This trip offers great opportunities for both certified divers and first-timers. Scuba diving amongst the coral playgrounds of the Great Barrier Reef is a prime focus on board Anaconda III, and are conducted by Queensland's premier dive company. For the serious diver they offer up to 6 dives; some at the beautiful inner fringing reef among the Whitsunday Islands and some at Bait Reef, part of the Outer Reef. If you are not a qualified diver but would like to experience the thrill of scuba diving, the fully qualified and professional instructors will be happy to introduce you to the amazing underwater world amongst the coral reef, subject to age, medical questionnaire and conditions.
Dive Prices for Certified, Introductory & Night Dives:
Scuba Experience Free
1 Dive $75
2 Dives $125
3 Dives $175
5 Dives $245
Extra Dives over 5 are $40 each
Night Dives for certified divers include torch, batteries and cylumes.
COURSES
For those who want to complete their Open Water Dive Course whilst in Australia, what better place to do it than the wonderful Whitsunday Islands!! You can complete your AUSI Open Water Course or AUSI Advanced Dive Course onboard Anaconda III, the only vessel in the Whitsundays to offer this amazing package! Superb in value, it's great introduction to diving for keen wannabe scuba divers! Please enquire for more details!
SNORKELLING
You do not have to scuba dive, Anaconda III is also a great trip for lots of snorkelling opportunities! It is possible to snorkel at all dive locations around the Whitsunday Islands and the Great Barrier Reef, or you can just sit back and relax in the sun. All gear and tuition is provided onboard, except wetsuits $22.00 pp which can be hired at the marina before departure. Non-swimmers on the trip are able to disembark the boat and take part in activities, however for safety reasons you must be able to swim if you wish to snorkel or dive.

Sample Itinerary
Every trip itinerary onboard Anaconda III is unique and it is guaranteed that you visit all the hot spots of the Whitsundays!
Destinations you should expect to visit: Bait Reef (part of the Outer Great Barrier Reef), Hook Island, Hayman Island, Blue Pearl Bay and Luncheon Bay.
Other possible destinations to visit: Butterfly Bay, Langford Reef, Mackerel Bay, Maureens Cove, Border Island and many more!
DAY 1 - Depart Abell Point Marina at 7pm
As you board Anaconda III, you will be greeted by the friendly crew and offered a glass of chilled Aussie wine to kick-start your adventure! A designated crew member will give you a tour of the vessel and show you to your assigned cabin. Once all passengers have boarded and settled in, it time to set sail into the night. Get to know your crew and other passengers over a couple cold beverages and nibblies. Enjoy the thrill of sailing under the stars as you make your way to your overnight anchorage. Your Skipper will find a calm, protected bay so that you can enjoy your nights sleep.
DAY 2 - Whitehaven Beach and Hook Island
Thanks to all the travelling you did the night before, you are now right where you want to be to ultilise the entire day! After a delicious buffet-style breakfast, your crew will take you to a gorgeous, secluded beach. Take part in beach games and activities like cricket, baseball and beach volleyball or simply kick back and soak up the sunshine. After 2-3 hours of beach fun, you will re-board Anaconda III and get ready to sail to the top end of Hook Island. The crew will have a smorgasbord lunch awaiting your arrival!
Take in the scenery as you sail the length of Whitehaven Beach and other islands towards the top of Hook Island - there are many spectacular bays within this region to choose from. Once we have arrived at the destination (usually Luncheon Bay), your crew will prepare you for all in-water activities. This is the most ideal time and location to give scuba diving a try for the first time - you will start from a calm and shallow beach until you are comfortable, with the vibrant reefs only a mere 10 metres in the distance. Certified divers should not give this dive a miss! Your experienced dive guide will show you all the best that this underwater region has to offer. After an afternoon full of water activities, you will sail your way to Bait Reef, anchoring in a protected coral lagoon.
DAY 3 - A full day at the Outer Great Barrier Reef, Bait Reef
Enjoy a sensational day of snorkelling, scuba diving, sun and food; all whilst at the heart of the world's largest living organism, the Great Barrier Reef. With so much to be seen, you will find yourself having a hard time getting out of the water! Bait Reef is the primary destination for Anaconda III, offering numerous top dive sites, unparalleled to anywhere else in the World. Wind down the day with some great food, crisp drinks or perhaps a night dive?
DAY 4 - One last snorkel/dive and return
Depending on conditions and timing, Anaconda III will sail from Bait Reef to Hayman Island (Blue Pearl Bay) either the morning of day four or the previous night. Either way, you will get the chance to visit the Whitsundays' fish bowl, Blue Pearl Bay. Whether snorkelling or scuba diving, you will be overwhelmed with the number and colours of tropical fish and other marine life that populate this bay. Don't miss the fish feeding which often attracts Elvis, the large Maori Wrasse who dominates the region - probably the biggest and most friendly fish you've ever seen! A two hour sailing journey will lead you back to Abell Point Marina, where the journey finishes. Keep those eyes peeled for the 2 hours as there's always the chance of spotting dolphins, turtles, sea snakes, sharks and possibly even humpback whales (July - October)!
After-party: Once you arrive back to Abell Point Marina, the fun is still not over! Anaconda III has an official after-party at one of Airlie Beach's most popular evening venues, Breeze Bar. Show up between 6:30 - 7pm and you will get VIP treatment just for being an Anaconda III passenger!

Sample Menu
Day One
Upon boarding: A glass of Australian wine
Evening snack: Freshly cut carrot and celery sticks with an assortment of cheese, crackers and dip.
Help yourself to complimentary tea, coffee, biscuits or purchase a wine, beer or soft drinks from the licensed bar and enjoy it on deck!
Day Two
Breakfast: A selection of cereals, fresh toast, a variety of fruit jams and spreads, fresh fruit salad as well as tea, coffee and juice.
Lunch: Smorgasbord lunch with fresh bread rolls, a selection of deli meats such as silverside, ham, and chicken accompanied fresh salad ingredients and mayonnaise
Afternoon Tea: Cheese and dip platter with crackers, carrot and celery sticks
Dinner: Succulent roast chicken with herb stuffing served with spicy topping, pesto pasta steamed vegetables and garlic and herb golden roast potatoes.
Dessert: Devilishly rich chocolate Bavarian dessert
Day Three
Breakfast: A selection of cereals, toast, a variety of fruit jams and spreads, fresh fruit salad as well as tea, coffee and juice
Lunch: Spicy beef and bean tacos with fresh tomato, corn, and lettuce served with choice of coconut rice or steamed rice, sour cream, sweet chili and salsa
Afternoon Tea: Fresh cheese and dip platter with crackers, carrot and celery sticks
Dinner: Seafood BBQ on deck featuring fresh fish parcels marinaded with garlic, herbs and butter served with salads, creamy potato mash and warm garlic bread
Dessert: Delicious French vanilla cheesecake with crumb base
Day Four
Breakfast: A selection of cereals, toast, a variety of fruit jams and spreads, fresh fruits well as tea, coffee and juice
Lunch: Warm quiche Lorraine and cheesey pasta bake served with a selection of crisp salads
Please note this is a sample menu and is subject to change and amendments.
Dietary requirements: If you have any dietary preferences, allergies or food intolerances we are more than happy to prepare meals as fresh and tasty as our regular menu that cater for all your dietary requirements from vegetarian to gluten intolerant. Just let us know your requirements when you book your ticket. Fresh, local produce is picked by the tour operator personally ensuring each tour features good quality local food and a fresh, seasonal menu. Anaconda III is a great tour for celebrating special occasions like birthdays and anniversaries, so please let us know when you book to allow us time to organize a little something special.

---
You May Also Like One Of These Products:
Solway LassSummertimeApolloKiana
---
BOOK WITH US TODAY! CALL 1800 550 751 OR (07) 4914 2425 IF LOCAL
What To Bring
Please only bring a small soft overnight bag without any zippers (ie. a re-usable shopping). A zip less souvenir bag can be purchased at the boat's check-in office for a few dollars. Ensure you pack clothes, a hat, swim-wear, bath and beach towel, sunscreen 30+, warm pullover for the evenings (seasonal)and cash/card for on board purchases. Please feel free to bring onboard a reusable water bottle and/or additional snacks.
All alcohol is to be purchased from the licensed bar on board - NO BYO alcohol allowed on board.
Excess luggage can be stored at several places in town including most boat check-in offices, a 24 hour locker shop on The Esplanade, most hostels, or at your accommodation. Most charge between $5-10pp for the duration of your trip.
What's Included
Skipper, crew, water, meals, linen, snorkelling equipment and all Marine Park fees.
What's Extra
You are required to wear a full length wetsuit to snorkel or dive, you can bring own or hire one on-board for $22pp for whole trip
Alcoholic beverages to be purchased from licensed bar (Beer - $4.50; Glass of wine - $3.50; Spirits - $5.50). Please note these prices are subject to change and are a guide only.
Soft drinks and bottled water available for purchase on board.
Scuba diving is an additional cost - all diving can be decided on and paid for on board. Please note dives are subject to age, weather, other conditions and the dive instructors discretion.
Scuba Diving:
Your safety in the water is our primary concern. To ensure your comfort and safety divers must be 12+ years or over and they may require that you have a Divers Medical Certificate for certain medical conditions and also if you are over 45 years old.
Please read the following questions carefully:
Do you currently have an ear infection?
Do you have a history of ear disease, hearing loss or problems with balance?
Do you have a history of ear or sinus surgery?
Are you currently suffering from a cold, congestion, sinusitis or bronchitis?
Do you have a history of respiratory problems, severe attack of hayfever or allergies, or lung disease?
Have you had a collapsed lung (pneumothorax) or history of chest surgery?
Do you have active asthma or history of asthma, emphysema or tuberculosis?
Are you currently taking medication that carries a warning about any impairment of your physical or mental abilities?
Do you have behavioral health problems or a nervous system disorder?
Are you or could you be pregnant?
Do you have a history of colostomy?
Do you have a history of heart disease or heart attack, heart surgery or blood vessel surgery?
Do you have a history of high blood pressure, angina, or take medication to control blood pressure?
Are you over 45 and have a family history of heart attack or stroke?
Do you have a history of bleeding or other blood disorders?
Do you have a history of diabetes?
Do you have a history of seizures, blackouts or fainting, convulsions or epilepsy or take medications to prevent them?
Do you have a history of back, arm or leg problems following an injury, fracture or surgery?
Do you have a history of fear of closed or open spaces or panic attacks (claustrophobia or agoraphobia)?
If any of these conditions apply to you, you will require a Divers Medical Certificate before you can scuba dive.
A Divers Medical Certificate can be obtained from:
The Doctors
283 Shute Harbour Road (Opposite McDonalds)
Airlie Beach
Ph: 07 4948 0900
Terms and Conditions
All departures and itineraries are subject to weather. Tours may be changed or cancelled for any reason at the discretion of the Tour Operator. It should be noted that adventure travel involves risk. Whilst we make every effort to safeguard clients, we cannot be responsible for personal injury or loss due to actions of our clients which are beyond our control. We recommend that all clients have travel insurance covering illness, injury, loss or damage to personal belongings and not being able to travel on the confirmed date of departure. Non-swimmers on the trip are able to disembark the boat and take part in activities, however for safety reasons you must be able to swim if you wish to snorkel or dive. Please be aware operators pass on credit card merchant fees so there is a non-refundable 2.5% surcharge for VISA and MASTERCARD card purchases.
Please advise us before booking if any passengers are under 18 years old to ensure this is the appropriate trip. Also please note that you need to allow time prior to the boats departure to check in, please ask us for more details.
Cancellations
All client cancellations forfeit 25% of total ticket price and all client cancellations made less than 21 days prior to departure will result in complete forfeiture of the full price of the sailing holiday. If the sailing company has to cancel the trip (prior to the boat's departure) and we cannot offer a suitable alternative, then a refund will be given minus card fees. We strongly recommend that you have travel insurance, especially during the wet season.
Thank you for booking with Mr Travel/Sailing Whitsundays. If you would like any advice or assistance in arranging accommodation, transfers or additional tours, please do not hesitate to contact us.